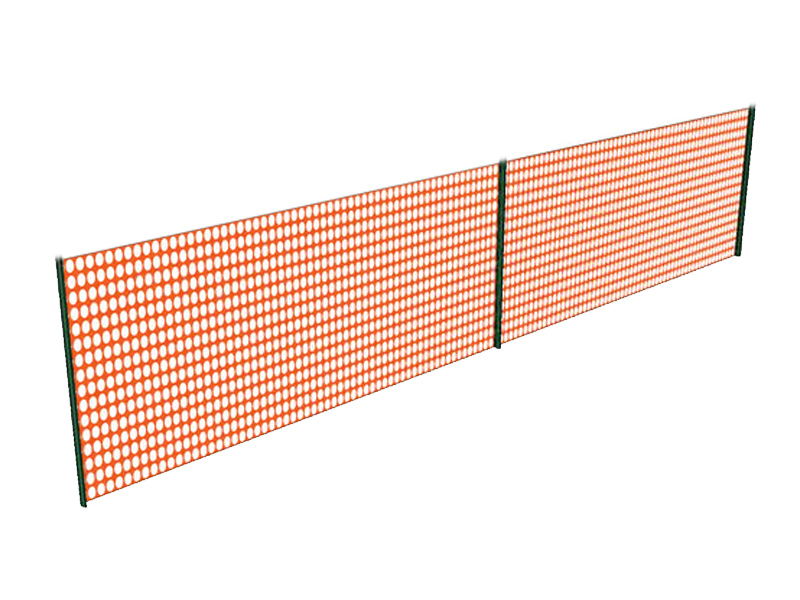 Snow Fence is typically installed and removed seasonally to prevent snow from drifting onto construction sites.
Orange snow fence:
Snow fence or orange snow fence is a plastic orange mesh that is extremely strong and durable. Snow fence is bright orange in color and is great for high visibility barrier. Works great for tree protection on construction sites. Snow fence stands 4ft tall and is attached to a 5ft metal T-post. Metal T-post are driven one foot into the ground.
Wood-lathe snow fence:
Our wood-lathe snow fence is constructed with our 4ft wood slats and sturdy wiring. Our snow fence is constructed from aspen and spruce wood slats that are woven together with 13- gauged galvanized wired. Each slat is approximately 3/8" thick, 1 1/2 "wide, and 4ft long with square ends. Spacing between each slat is approximately 2 ½ "apart. Wooden slats are painted with red oxide stain which is great for outside elements. The 13-gauged galvanized wire is used to hold wooden slats in place with 5 horizontal rows of 2 wires each. With spacing of approximately 10" apart vertically. Retaining wire is then twisted 360 degrees between wooden pickets which bind the wood slats and lock them into place. Wooden snow fence may be used as a temporary removable fence to create walkways and paths.
Silt Fence:
Silt fence or filter fence is a temporary sediment control fence that is made with a woven fabric filter cloth (geotextile) used on construction sites to protect water quality in nearby streams, lakes, rivers, etc. from sediment stormwater runoffs. This fence helps prevent erosions. With our simple design and straight forward installation this type of fence will look great and protect your job site.